3 Create Your Own Salad Ideas
Salads are a big deal at Garry's Grill. And, taste is our number one priority, as we use only the freshest of ingredients in each signature salad. Luckily, studies suggest that eating a salad almost every day may be one of the most healthy eating habits you can adopt. It's easy to get in all of your daily vegetables in one serving, and they are packed full of vitamins, fiber, and healthy fats. Not to mention, salads have a plethora of textures, colors, and flavors to keep you interested in eating them regularly. Plus, you can customize them to have fruits, vegetables, and other ingredients that appeal to you. It's no wonder why salads are such a popular meal in homes and restaurants nearly everywhere. So, without further ado, here are our top 3 'Create Your Own Salad' combinations at Garry's Grill. 
Shipley's Summer Salad (Shrimp)
Our Shipley's Summer Salad is the perfect go-to for a warm evening. The sweet and savory salad starts with fresh baby spinach with peaches, sliced strawberries, feta cheese, bacon, toasted almonds, and a maple vinaigrette dressing. Further, we recommend topping it off with shrimp cooked to your preference: char-grilled, blackened, or beer battered.
Garry's Salad (Salmon)
The Garry's Salad routinely receives the most mentions from our entire menu. The salad starts with mixed greens, topped with candied pecans, Gorgonzola cheese, pears, strawberries, and a homemade Maple Champagne vinaigrette. The most difficult part is figuring out how to top it: chicken, coconut shrimp, sirloin, crab cake, tuna steak, Portobello mushroom, or salmon. We recommend topping it with salmon cooked to your preference: grilled, blackened, smoked, or almond crusted.
The Vic Chop Salad (Chicken)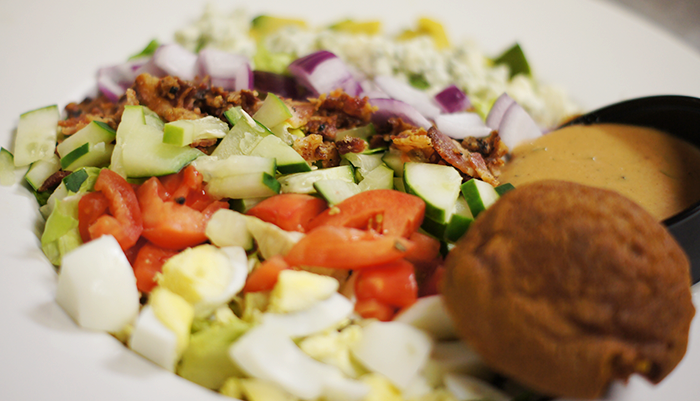 The Vic Chop Salad is a heartier salad with a bold flavor in every bite. The salad starts with fresh chopped romaine, hard-boiled egg, bacon, diced tomato, diced red onion, diced cucumbers, Gorgonzola cheese, avocados, and a southwest cilantro ranch dressing. We recommend topping it off with chicken cooked to your preference: grilled, blackened, peppercorn crusted, sesame crusted or buffalo strips.
What's your favorite Garry's Grill salad combination? Let us know in the comments section below. Also, check out our menu to find some of these favorites and more.