Last-Minute Creative Halloween Costumes for Kids
Between work and everyday life, time can easily slip away from us, especially around the holiday season. And, when it comes to Halloween, busy parents can relate to the familiar frenzy of putting together a last-minute, elaborate costume. That being said, with limited options and supplies, it's all about getting creative with a few household items. Hey, sometimes a DIY costume is cooler than the store-bought version anyway. So, to help you along, we have a few last-minute creative Halloween costumes that are sure to save the day. Good luck and happy Halloween, ghouls and gals!
An Emoji Face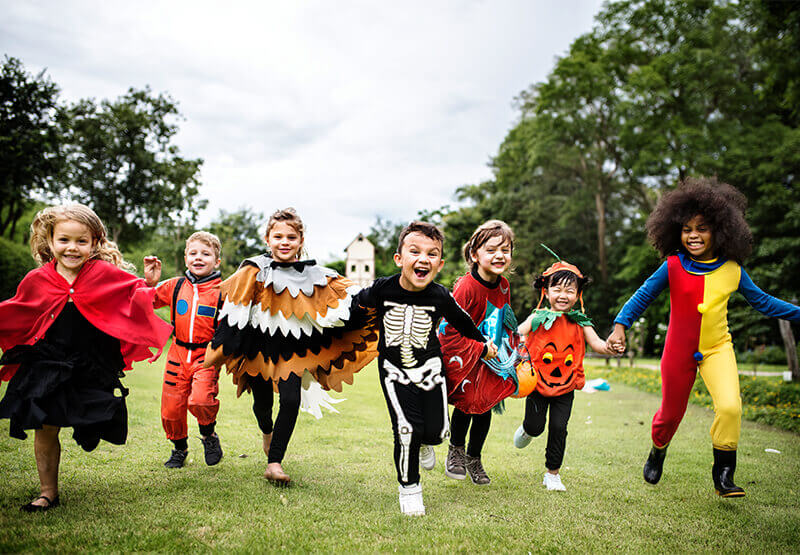 What's more popular than emojis in today's digital era? This yellow emoji costume is tremendously cute and a snap to create at home. To start, grab a yellow poster board or paint a piece of cardboard yellow. Then, use permanent markers to draw a circle for the face. You can go with a winky face or heart eyes, whatever your kids favorite may be. Once the face is complete, add a string and your child can wear the emoji around their neck. Alas, they'll be ready to take part in a Halloween costume contest, a school dress-up event, or a night of trick or treating.
Burglar
Create this noteworthy burglar costume in just a few minutes. All you will need is a black pair of pants and a black and white striped shirt. Then, add a black beanie and an eye mask (or paint on the mask) and you have a robber! Finally, use an old pillowcase and draw a dollar sign on the side to make it look like your little burglar got away with the cash!
Scuba Diver
Another great last-minute Halloween costume that takes just a little creativity is a scuba diver. To start, dress your child in swim gear if possible, using long sleeve shirts or just one color of clothing. After that, use two soda bottles that are 2 liters in size and decorate them with duct tape and paint to look like an oxygen tank. Then, use velcro or tape to strap the bottle to the shirt and you are halfway there! Use poster board or cardboard to create flippers or if you have some, let your little one hobble around like they are underwater. Finally, add a pair of swim goggles and a snorkel, and ta-da, you have the perfect underwater costume!
Chef
Last but not least, this adorable chef's costume is one of the easiest options on the list! Dress your child in plain white clothes and tie an apron around their waist. If you happen to have a chef's coat, that works even better. Then, create a chef's hat using cardboard and a white plastic grocery bag. Finally, have them carry a spatula or mixing bowl and spoon, and voila, you have an instant chef!
Overall, think about the characters or animals your kids like and use items around the house to make their Halloween costume come to life. You may surprise yourself at how little time is spent on creating a unique and cool costume!
Get Spooky at Garry's Grill
Stop into Garry's Grill this Halloween season and get your pumpkin fix. Our award-winning bakery has loads of fall favorites, including a delicious Pumpkin Roll featuring a gluten-free cake roll with cream cheese filling. Or, grab a case of our famous pumpkin muffins, served year-round!