Basic Rules for Pairing Wine with Food
After a long day, there's nothing's better than unwinding with a chilled glass of wine. And, finding the perfect wine to pair with dinner is as close as it gets to a match made in heaven. That's why Garry's has a large selection of wines. No matter what you order on the menu, you're sure to find a wine that accompanies every dish. So, whether you're new to pairing wine with food or you're looking to try a new combination, we've got the scoop.
Getting Started: Light vs. Heavy
Needless to say, there are a lot of variations of wine. Some are sweet while others are dry. Some are bold, and some are rich. And, each wine pairs differently with food. If you're new to the world of pairing wine with food, there's really only one rule to follow. The wine should be sweeter than the food. Why? Because food impacts the taste of the wine. If the food is sweeter than the wine, it can leave it feeling bitter and tart. And our taste buds are very sensitive to bitterness. Many times people think to pair red wines that have high tannins with bitter foods. That just won't work. So throw out the run that white wine is for light meat and red wine is for dark meat. It's really based on the flavors.
White Wine Food Pairings
That being said, yes white wines do tend to fair well with poultry and vegetables. So, consider trying the Sesame Chicken, Herb Crusted Salmon or Greek Chicken Caesar Salad with the Sycamore Lane Chardonnay. Or start your night off with a glass of Ecco Domani Pinot Grigio and Garry's Fish Tacos. Here are some general examples of white wine food pairings:
Riesling – think spicy foods, cheeses, and even desserts. Since this can be on the sweeter side, it is very versatile.
Sauvignon Blanc & Pinot Grigio – great with green or roasted veggies and fish dishes that have earthy flavors.
Chardonnay – consider with soft cheeses, starches, fatty fish and white meats.
Red Wine Food Pairings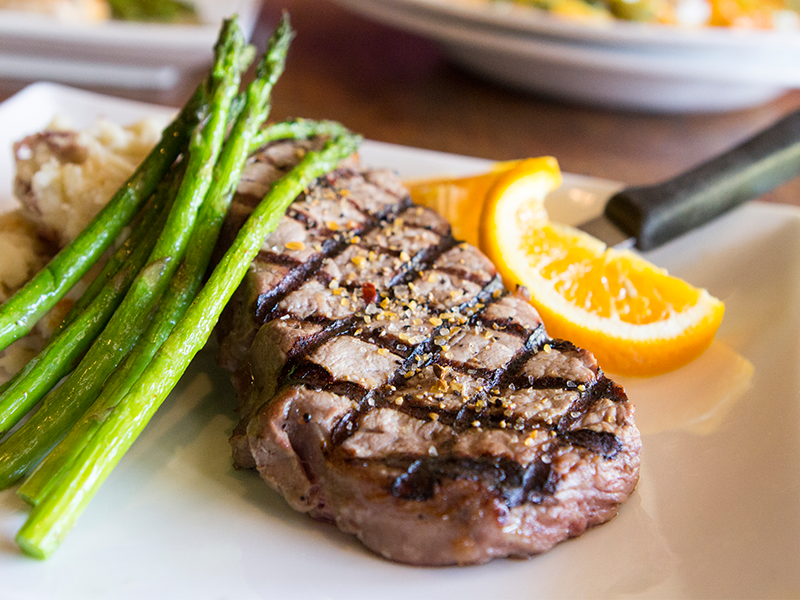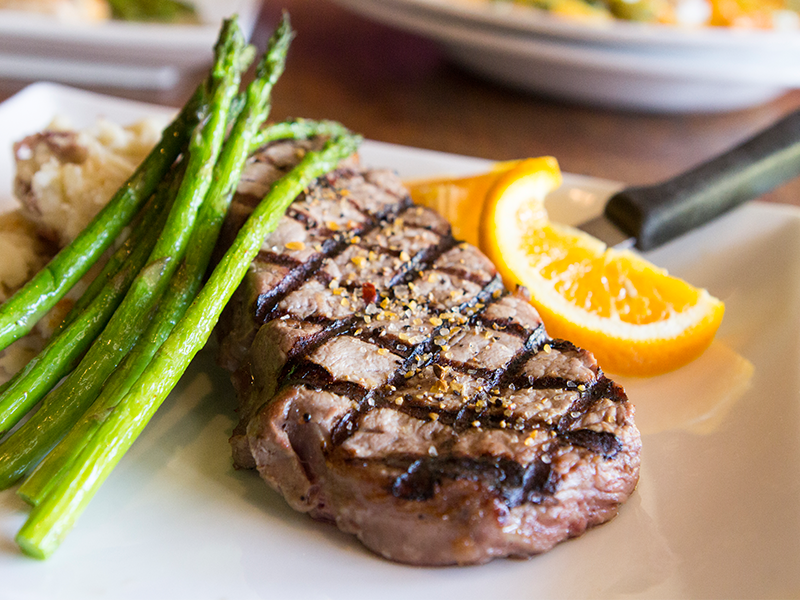 If you're in the mood for steak or pasta, go with a glass of red wine.
The biggest mistake people make is going too bold with reds for dishes that really require something lighter. Take our dishes, the Chartwell Sirloin, and Portabella Roasted Red Pepper Penne Pasta pair well with Zen of Zin Zinfandel. High tannin wine will taste sweeter if paired with the right dish. If it doesn't, the wine will taste acidic. Still, don't be afraid to match up against strong reds with your steak though. The firm tannins will hold up against those bold flavors. In any event, keep in simple and stick to the following red wine food pairings:
Pinot Noir – consider rich fish (shellfish like crab), and roasted veggies. Also great with a chicken.
Cabernet – pork chops, steak, even a burger because it holds up to hard cheeses too.
Merlot & Zinfandel – just about any meat will pair well with these wines (white and red meats) along with earthy veggies.
Find Your Perfect Pairing
At the end of the day, the only way to find the perfect pairing is to try it for yourself. Stop by Garry's Grill for lunch, dinner, appetizers or dessert. As for the wine? We recommend a glass of dry Kendall Jackson Chardonnay or a raspberry Sky Fall Merlot. But, whatever you like, visit us in Severna Park and see what's on the menu.