Instagram-worthy Foods at Garry's
Thanks to Instagram, the picture-sharing website, food photography has taken off and made us all a little bit hungrier. So it's not surprising that looking through Instagram-worthy foods at Garry's is almost as fun as eating them. Because not only is the food aesthetically-pleasing but the flavors will blow you away too. Although, at this moment, these images will have to hold you over until you get your hands on the real thing. Until then, enjoy the lovely feast for your eyes.
Caprese Flatbread
Just one look and it's easy to become memorized by the balsamic drizzle and fresh basil on the Caprese Flatbread. The grilled flatbread features melted fresh buffalo mozzarella cheese, sliced tomatoes, fresh basil and a sweet balsamic glaze. But, don't forget about our Round Bay flatbread that is quintessential Maryland cuisine! It's topped with creamy crab fondue, cheddar cheese, tomatoes, super lump crab meat and Old Bay.
---
Severn River Benedict
Speaking of Maryland cuisine, the Severn River Benedict is savory and packed with flavor that you can literally see. Our signature benedict is loaded with Petite crab cakes, poached eggs, hollandaise sauce, and, of course, Old Bay. Because Maryland.
---
Bananas Foster
Now, prepare your virtual sweet tooth for an unforgettable breakfast dish. Our Bananas Foster features Rum-glazed caramelized bananas atop your choice of short stack pancakes, tall stack pancakes, french toast, or waffle. We promise that the photo doesn't lie. This is one irresistibly sweet and delicious treat. Just grab the syrup and dive in.
---
Berry French Toast
Warning: Upon first glance, you may be tempted to bite your screen. Our Berry French Toast embodies a one-of-a-kind crunch thanks to a popular cereal! Our homemade cinnamon swirl bread is dipped in a vanilla cinnamon egg wash and coated in Capn N' Crunch cereal, and fried crispy. Finally, we top it off with a homemade berry sauce.
---
B & A Burger
Feast your eyes upon the juicy burger, crispy bacon, and melted cheese! Our B&A Burger features an 8 oz. Angus beef burger or grilled chicken breast topped with cheddar, provolone, caramelized onions, bacon, and BBQ sauce! But, if you would rather have a custom option, you can also create your own burger at Garrys!
---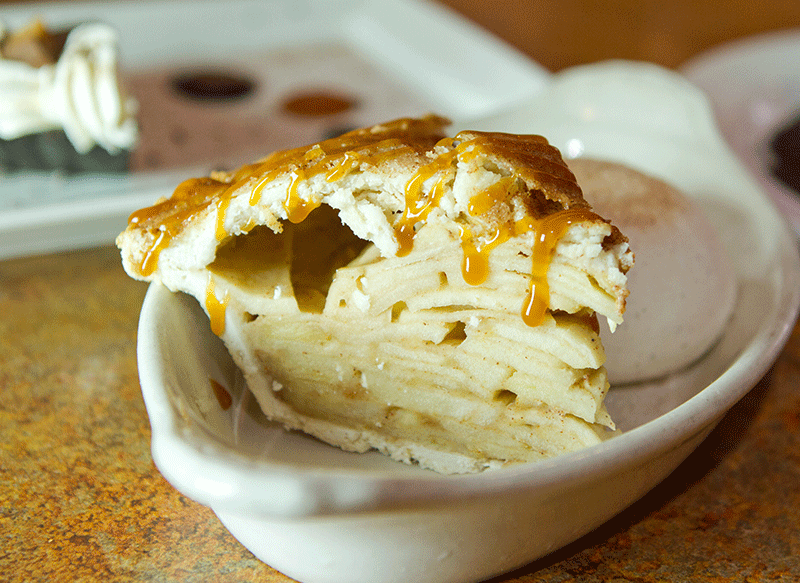 Apple Pie
As you can see, it's all about the layers of apple that draw you in. You probably already know that all of our desserts look and taste incredible, but there's something special about a slice of classic American pie. Our double crust apple pie is a treat on and off the screen. And just look at that sugary drizzle! Kudos to our Pastry Chef, Natalie, who really knows how to make an amazing Apple Pie.
What are your top three Instagram-worthy foods at Garrys? Follow us on social, and like and share your favorite meals on our Instagram! #GarrysGrill or tag us. 🙂